Back-to-back Specialty & Sweepstakes
PLAN YOUR SUMMER VACATION! WVSC is pleased to invite you to our Specialties this summer in Oregon's beautiful Willamette Valley. Please plan to join us this summer in beautiful Canby, Oregon, at the Clackamas County Fairgrounds for four days of Saluki shows, June 22-26, 2016. The Willamette Valley Saluki Club will once again hold back-to-back specialties followed by Clackamas Kennel Club's back-to-back all-breed shows. WVSC once again offers NOHS at both Specialties.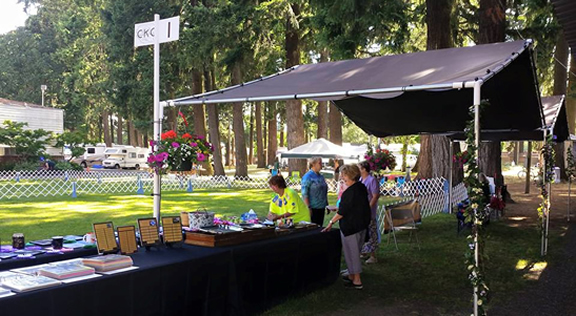 Trophy Sponsorships
Please help us once again offer fabulous trophies at our 2017 Specialties with your trophy sponsorships.
Thursday Sponsorship Form (PDF download)
Friday Sponshorship Form (PDF download)
Our 2017 judges
Thursday, June 22
Specialty Judge: Ms. Dianne Kroll
Sweepstakes Judge: Lyndell Ackerman
Friday, June 23
Specialty Judge: Wendy Duggan
Sweepstakes Judge: Lauren Chen
Clackamas Kennel Club all-breed shows:
Saturday, June 24
Salukis: Mr. Robert R. Frost
Hound Group: Mr. Allen L. Odom
Best in Show: Mr. Robert L. Robinson
NOHS Hound Group: Mrs. Joan P. Scott
NOHS Best in Show: Mr. Rodney R Merry
Sunday, June 25
Salukis: Mr. Allen L. Odom
Hound Group: Ms. Nikki Riggsbee
Best in Show: Ms. Minna-Liisa Koltes
Please consider coming out the previous weekend (June 17-18) for the Cascade Hound Association of Oregon shows and make it a week of fabulous hound-focused shows with a few days in the middle to take in Oregon's variety of beautiful scenery.
We look forward to seeing you this summer in Oregon!
Results are available for 1998-2011. We hope to eventually post the results of all past WVSC specialties.