Brags
From the November 2008 meeting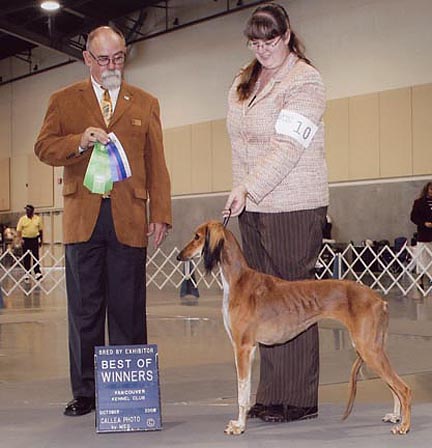 At Vancouver KC, Oct. 25th, Angel (Sirianni Winged Ever Lasting) was Best Bred By Exhibitor, Winners Bitch and Best of Winners. Judge - Mr. David J. Peat
Wanda & Pamela
---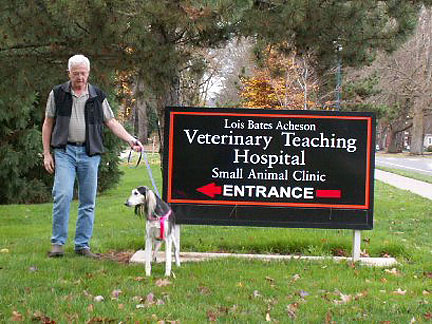 Bill, Lacey & I traveled down to Corvallis on Friday for Lacey's six month check-up.
Lacey passed with flying colors. The lead in her heart hadn't moved at all, nor had the generator moved so next time we don't have to have x-rays.
The ECG looked great and what I found most interesting is that the Dr showed us a bar graph of what Lacey's heart has been doing over the last six months. Her heart rate basically has been under 90 bpm and it's peak was 141 bpm. Wouldn't it be interesting to know what Lacey was doing to drive her heart rate up that high.
Anyway, it was a successful day.
I told Bill & Lacey to hold still for a photo to commemorate the day. Neither was impressed.
Bonnie Boucher-Johnson
---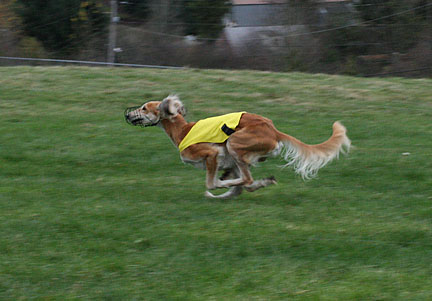 Today (Nov. 29), Goji went to the trial held by the Northwest Coursing Club and ran away with a 5-point Best in Field! High point: he didn't need a bath or grooming to compete! Bummer: he wore a muzzle so he could be snagged when the plastic bags stopped.

Maruta
---
From the September 2008 meeting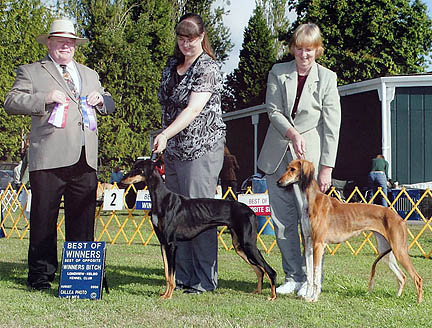 I'm pleased to report for Leslie and Dennis (and Pamela and me too) that Clark (Sirianni Lasting Legacy SM) has had a good summer. He took a major reserve on our specialty weekend (at Clackamas KC) and another major reserve on the Puget Sound specialty weekend (Sammamish KC) at just a year of age. He was also WD/BOW both days at Longview-Kelso KC.
Our girl, Angel (Sirianni Winged Ever Lasting), has decided to get going as brother Clark was taking up too much limelight. She was WB both days at Longview Kelso and also WB/BOW on Saturday at the Eugene cluster. Clark and Angel are pictured with judge Dr. John Shelton at Longview-Kelso KC.
Wanda Sirianni
---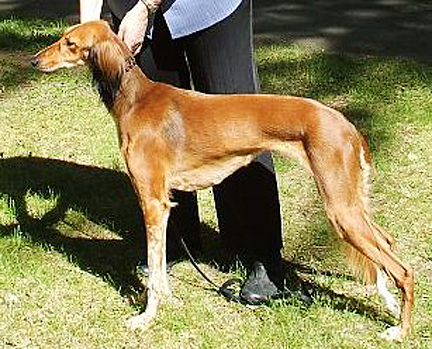 Mae was WB one day at the Eugene cluster under Lee Reasin for one point.
Val Hiller
---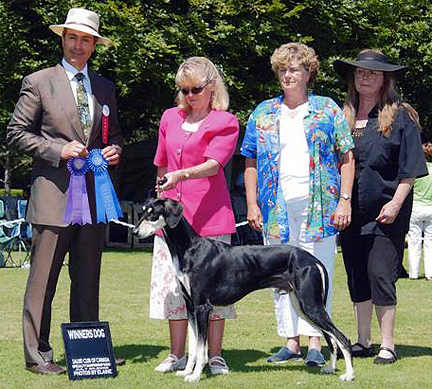 I guess from the summer my brag would be finishing Kumar in Canada so he is now an American and Canadian Ch. Now for the coursing. And, of course, he will want to meet a nice girl.
Susan Manthou
---
At the recent Gig Harbor shows Ms. Grins got her first major.
Lyndell Ackerman
---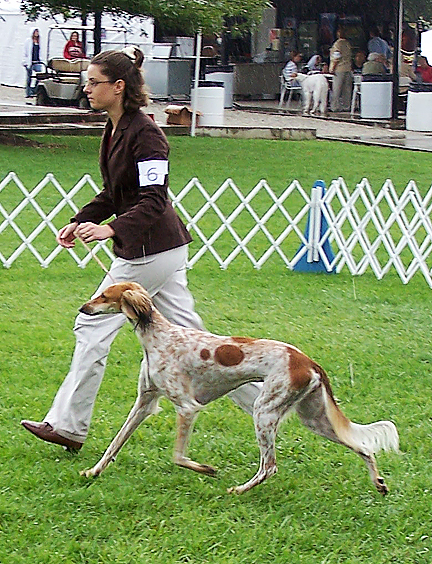 I have a bit of a brag :)
Patience went WB/BOW this weekend for her first major!! Yippee!! Judge was Terry Stacy. His wife gave Patience RWB the day before. Needless to say, we floated home. The fact that I have been handling Patience made this special for me - I'm very much a newbie at showing. Patience is: Sirianni Patience at Last (Nyala x Hunter and also a Paul granddaughter)
Jamey Lambert
---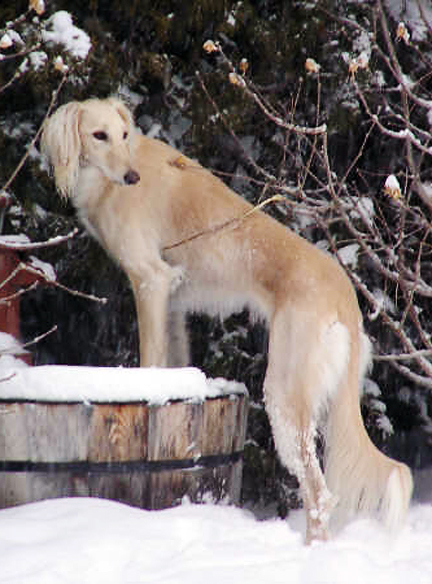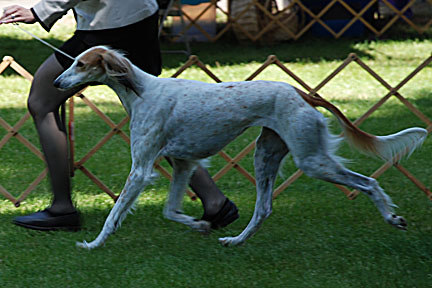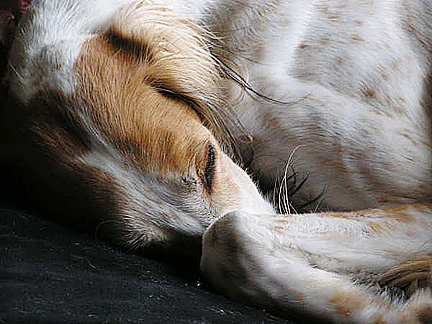 Richlands show 9-27&28
Halee was WB,BOW and BOS Simi was once again the bridesmaid.....RWB....
Cathi Steiner
---
Congratulations to all.